Добавил:

harun54

Дата:

26-06-2022, 10:29

Комментариев:

0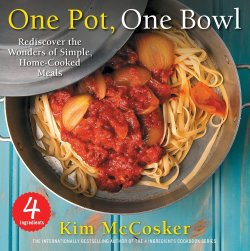 Название:
4 Ingredients One Pot, One Bowl: Rediscover the Wonders of Simple, Home-Cooked Meals
Автор:
Kim McCosker
Издательство:
Atria
Год:
2013
Формат:
EPUB
Размер:
114 Мб
Язык:
английский / English
From the coauthor of the internationally bestselling 4 Ingredients series comes a new, must-have cookbook designed to bring joy and flavor back into the kitchen.4 Ingredients One Pot, One Bowl is an ingenious collection of sweet and savory dishes full of fresh, easy-to-find ingredients that require only one pot and one bowl. That means less cleanup and more time enjoying life and delicious food with the friends and family you love.In this book, you'll find more than eighty recipes for tasty and deceptively simple casseroles, roasts, soups and stews, pizzas, pasta, pies, and desserts. Imagine Creamy Bacon & Sun-Dried Tomato Chicken, French Lamb Casserole, Apple Crumble, and Baked Rice Pudding—all using four or fewer ingredients. With One Pot, One Bowl, life just got easier... and a whole lot more delicious!