Добавил:

Indulis

Дата:

14-09-2021, 23:31

Комментариев:

0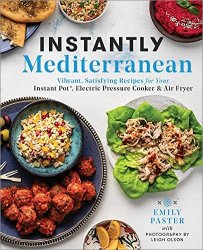 Название:
Instantly Mediterranean: Vibrant, Satisfying Recipes for Your Instant Pot, Electric Pressure Cooker, and Air Fryer
Автор:
Emily Paster
Издательство:
Tiller Press
ISBN:
1982173076
Год:
2021
Формат:
EPUB
Страниц:
224
Размер:
169,1 МБ
Язык:
Английский
Discover how to make delicious, mouthwatering Mediterranean recipes right in your electric pressure cooker and air fryer.
We all know and love the Instant Pot and the air fryer. Now, for the first time in one cookbook, find recipes for your favorite Mediterranean dishes—plus some delicious new ones—developed especially for both of these popular countertop appliances, so you can cook authentic Mediterranean cuisine quicker than ever.