Добавил:

harun54

Дата:

10-05-2022, 11:03

Комментариев:

0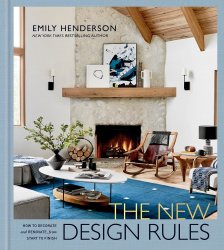 Название:
The New Design Rules: How to Decorate and Renovate, from Start to Finish
Автор:
Emily Henderson, Jessica Cumberbatch Anderson
Издательство:
Clarkson Potter
Год:
2022
Формат:
EPUB
Размер:
131 Мб
Язык:
английский / English
Whether you're embarking on a weekend refresh or complete renovation, interior designer Emily Henderson wants you to take risks with your home design without experiencing regret. In this visually driven decorating bible punctuated with photographs from real homes and colorful illustrations, she takes you through her entire process, including every single decision she makes when it comes to picking paint, arranging furniture, hanging window treatments, and deciding on lighting fixtures. You'll also learn when to hire a contractor versus an architect versus a handyperson, all the materials to consider (and why you might want to skip those marble countertops), proper measurements of the elements in each room, and so much more. By the end of the book, you'll feel more confident when it comes to visualizing the home of your dreams, and you'll finally know how to make it happen.