Добавил:

harun54

Дата:

5-06-2022, 11:59

Комментариев:

0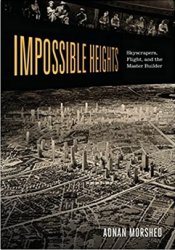 Название:
Impossible Heights: Skyscrapers, Flight, and the Master Builder
Автор:
Adnan Morshed
Издательство:
Univ Of Minnesota Press
Год:
2015
Формат:
PDF
Размер:
31 Мб
Язык:
английский / English
The advent of the airplane and skyscraper in 1920s and '30s America offered the population an entirely new way to look at the world: from above. The captivating image of an airplane flying over the rising metropolis led many Americans to believe a new civilization had dawned. In Impossible Heights, Adnan Morshed examines the aesthetics that emerged from this valorization of heights and their impact on the built environment. The lofty vantage point from the sky ushered in a modernist impulse to cleanse crowded twentieth-century cities in anticipation of an ideal world of tomorrow. Inspired by great new heights, American architects became central to this endeavor and were regarded as heroic aviators.