Добавил:

ReleaseZ

Дата:

31-03-2022, 10:08

Комментариев:

0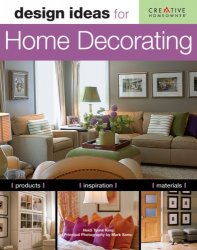 Название:
Design Ideas for Home Decorating
Автор:
Heidi Tyline, King Mark, Samu Glee Barre
Издательство:
Creative Homeowner
ISBN:
1580113133
Год:
2006
Формат:
PDF
Страниц:
322
Размер:
126 MB
Язык:
English
An ever-popular topic in the house and home category, Design Ideas for Home Decorating shows readers how to transform an ordinary house into a beautiful home. A brand new title from the best-selling Design Ideas series, this book features hundreds of gorgeous photographs showcase the work of many of today's leading designers. Savvy tips and advice include examples of basic design concepts and how to apply them to every room in the house. Topics include working with space; furniture arrangement; creating a color scheme; and finding a personal style.