Добавил:

Maurix

Дата:

18-06-2021, 05:28

Комментариев:

0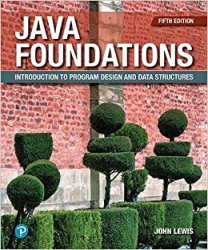 Название:
Java Foundations: Introduction to Program Design and Data Structures 5th Edition
Автор:
John Lewis , Peter DePasquale, Joe Chase
Издательство:
Pearson
Год:
2019
Формат:
PDF
Страниц:
1094
Размер:
13 Mb
Язык:
English
For courses in Java Programming.
A comprehensive, cohesive, and seamless exploration of Java programming
Java Foundations is a comprehensive textbook for introductory programming sequences. The versatile layout supports a
two-or three-semester sequence and introduces students to the world of programming–from basic programming concepts to the design and implementation of complex data structures. Inspired by the success of their industry-leading text, Java Software Solutions, authors Lewis, DePasquale, and Chase build a solid framework for lasting comprehension.