Добавил:

Maurix

Дата:

12-06-2021, 10:30

Комментариев:

0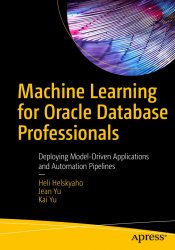 Название:
Machine Learning for Oracle Database Professionals: Deploying Model-Driven Applications and Automation Pipelines
Автор:
Heli Helskyaho, Jean Yu, Kai Yu
Издательство:
Apress
Год:
2021
Формат:
ePUB, PDF
Страниц:
305
Размер:
20 Mb
Язык:
English
Database developers and administrators will use this book to learn how to deploy machine learning models in Oracle Database and in Oracle's Autonomous Database cloud offering. The book covers the technologies that make up the Oracle Machine Learning (OML) platform, including OML4SQL, OML Notebooks, OML4R, and OML4Py. The book focuses on Oracle Machine Learning as part of the Oracle Autonomous Database collaborative environment. Also covered are advanced topics such as delivery and automation pipelines.