Добавил:

harun54

Дата:

4-09-2021, 08:19

Комментариев:

0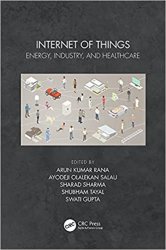 Название:
Internet of Things: Energy, Industry, and Healthcare
Автор:
Arun Kumar Rana, Ayodeji Olalekan Salau, Sharad Sharma
Издательство:
CRC Press
Год:
2021
Формат:
PDF
Размер:
44 Мб
Язык:
английский / English
Internet of things (IoT) is the connection and communication of physical objects (smart devices) over the internet. In this recent age, people's daily lives are dependent on the internet through their smartphones, tablets, Smart TVs, micro-controllers, Smart Tags, computers, laptops, and cars to name a few. This book discusses different ways to create a better IoT network and/or IoT platforms to improve the efficiency and quality of these products and subsequently their users' lives. In addition, this book provides future research directions in energy, industry, and healthcare, and explores the different applications of IoT and its associated technologies.