Journal of Prosthodontics on Complex Restorations
Добавил:

daromir

Дата:

27-05-2018, 12:07

Комментариев:

0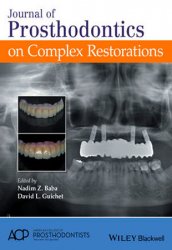 Название:
Journal of Prosthodontics on Complex Restorations
Автор:
Nadim Z. Baba, David L. Guichet
Издательство:
Wiley
Год:
2016
ISBN:
9781119274582
Формат:
pdf
Страниц:
288
Размер:
140 mb
Язык:
English
Patients often present with a myriad of complex dental restorative challenges. Prosthodontists, restorative dentists, and other team members are called upon to solve these dilemmas. In most instances, established protocols are available. Often more imaginative techniques are applied in the manufacture and the delivery of complex restorations including nontraditional workflows and new CAD/CAM solutions. Examples of this are the advances in 3D manufacturing technology, which has come of age along with dental digital design software and machinable high-strength esthetic materials.
As new information, materials, and techniques have become available, contributors to the Journal of Prosthodontics have shared their developments...
• Presents a curated list of the best peer-reviewed articles on complex restorations from the pages of Journal of Prosthodontics
• Covers management of maxillofacial defects using CAD/CAM technology, tooth wear, congenital disorders, orthodontic/prosthodontic patients, patients with surgical and maxillofacial challenges, and completely edentulous patients using new ceramic material
• Offers a mix of clinical reports, research articles, and reviews

Table of Contents:

Внимание
Уважаемый посетитель, Вы зашли на сайт как незарегистрированный пользователь.
Мы рекомендуем Вам
зарегистрироваться
либо войти на сайт под своим именем.