Semantic Models in IoT and eHealth Applications
Добавил:

literator

Дата:

3-10-2022, 12:51

Комментариев:

0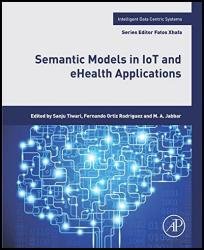 Название
: Semantic Models in IoT and eHealth Applications
Автор
: Sanju Tiwari, Fernando Ortiz Rodriguez
Издательство
: Academic Press, Elsevier
Серия
: Intelligent Data-Centric Systems
Год
: 2022
Страниц
: 292
Язык
: английский
Формат
: pdf (true)
Размер
: 12.8 MB
Semantic Models in IoT and eHealth Applications explores the key role of semantic web modeling in eHealth technologies, including remote monitoring, mobile health, cloud data and biomedical ontologies. The book explores different challenges and issues through the lens of various case studies of healthcare systems currently adopting these technologies. Chapters introduce the concepts of semantic interoperability within a healthcare model setting and explore how semantic representation is key to classifying, analyzing and understanding the massive amounts of biomedical data being generated by connected medical devices.
Continuous health monitoring is a strong solution which can provide eHealth services to a community through the use of IoT-based devices that collect sensor data for efficient health diagnosis, monitoring and treatment. All of this collected data needs to be represented in the form of ontologies which are considered the cornerstone of the Semantic Web for knowledge sharing, information integration and information extraction.
Healthcare is a sensitive domain for human beings and needs extra care to monitor patients and elderly people. Massive exploitation of associated devices is the primary source for collecting health data during the monitoring of patients. All connected devices such as sensors, actuators, and RFIDs produce challenging data simultaneously and sometimes lack consistency and provide incorrect information. Recently, semantic web technologies have been involved in overcoming these issues and provide a semantic and syntactic representation of data that are interpreted by machines and humans. Ontologies are presented as a backbone of the semantic web and exhibited in semantic models with explicit representation of health data and connected devices. The primary aim of semantic modeling of healthcare data is to facilitate its domain's reusability and generalized representation. In this chapter, a brief introduction of healthcare semantic models has been discussed in general-purpose and domain-specific IoT-based semantic models. It also covers semantic modeling phases such as semantic annotation, semantic linking, the construction process, and semantic representation. Various case studies and examples include all phases.
Presents comprehensive coverage of advances in the application of semantic web in the field of eHealth
Explores different challenges and issues through various case studies of healthcare systems that are adopting semantic web technologies
Covers applications across a range of eHealth technologies, including remote monitoring and mobile health
Скачать Semantic Models in IoT and eHealth Applications

Внимание
Уважаемый посетитель, Вы зашли на сайт как незарегистрированный пользователь.
Мы рекомендуем Вам
зарегистрироваться
либо войти на сайт под своим именем.