Cybersecurity for Small Networks: A No-Nonsense Guide for the Reasonably Paranoid
Добавил:

literator

Дата:

5-10-2022, 12:52

Комментариев:

0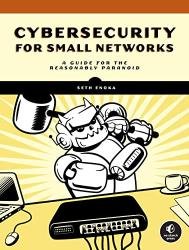 Название
: Cybersecurity for Small Networks: A No-Nonsense Guide for the Reasonably Paranoid
Автор
: Seth Enoka
Издательство
: No Starch Press
Год
: 2022
Страниц
: 226
Язык
: английский
Формат
: pdf (true), epub (true), mobi
Размер
: 21.9 MB
A guide to implementing DIY security solutions and readily available technologies to protect home and small-office networks from attack.
This book is an easy-to-follow series of tutorials that will lead readers through different facets of protecting household or small-business networks from cyber attacks. You'll learn how to use pfSense to build a firewall, lock down wireless, segment a network into protected zones, configure a VPN (virtual private network) to hide and encrypt network traffic and communications, set up proxies to speed up network performance and hide the source of traffic, block ads, install and configure an antivirus, back up your data securely, and even how to monitor your network for unauthorized activity and alert you to intrusion.
For our purposes, a small network consists of 100 or fewer endpoints. An endpoint, or host, is any system or device that connects to or is part of a network, such as a desktop or laptop computer or a mobile device like a phone or tablet. Larger networks, approaching the size of an enterprise network, use similar tools and techniques that are covered in this book to provide security to their users and systems, just on a much larger scale and often at a much higher cost.
The drawback to securing small networks is that you have to maintain and administer everything yourself, with limited support and likely a limited budget. Securing your network will require constant care, and we'll cover some ways that you can do this cheaply when the need arises. Ultimately, the goal of this book is to arm you with the tools and knowledge to secure your network with whatever resources you have available, in terms of both time and money.
Recommended (But Not Required) Knowledge:
In this book, you'll learn the fundamentals of cybersecurity as it relates to securing small networks. The book will guide you through all of the necessary steps to complete each chapter and project at a very low level. Having previous experience working with virtual machines, using the command line, and generally managing or administering a network of any size will prove beneficial. Having said that, you should be able to follow along regardless of experience, as you'll learn the necessary skills as you progress.
Скачать Cybersecurity for Small Networks: A No-Nonsense Guide for the Reasonably Paranoid

Внимание
Уважаемый посетитель, Вы зашли на сайт как незарегистрированный пользователь.
Мы рекомендуем Вам
зарегистрироваться
либо войти на сайт под своим именем.