Cyber Security and Digital Forensics: Challenges and Future Trends
Добавил:

literator

Дата:

4-02-2022, 16:03

Комментариев:

0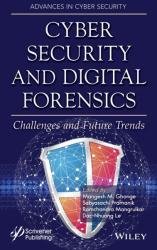 Название
: Cyber Security and Digital Forensics: Challenges and Future Trends
Автор
: Mangesh M. Ghonge, Sabyasachi Pramanik, Ramchandra Mangrulkar
Издательство
: Wiley-Scrivener
Серия
: Advances in Cyber Security
Год
: 2022
Страниц
: 415
Язык
: английский
Формат
: pdf (true), epub
Размер
: 21.9 MB
Cyber security and digital forensics are an important topic nowadays, which provides many challenging issues in relation to security, identity, intrusion detection, advanced threat detection, privacy preservation etc. The goal of this edited book is to outline the cyber security and digital forensic challenges and future trends. The book focuses on how to secure computers from hackers and how to deal with obtaining, storing, evaluating, analysing and presenting electronic evidences. Current threats are getting more complicated and advanced with the rapid evolution of adversarial techniques. Networked computing, and portable electronic devices have broadened the role of digital forensics beyond traditional investigations into computer crime.
The main focus of this book is to provide the reader with a broad coverage of the topics that includes different concepts, models, and terminology along with examples and illustrations to show substantial technical field details. It motivates readers to practice tougher security and defense processes to cope with attackers and mitigate the situation. Practically every crime now requires some aspect of digital evidence; digital forensics provides the techniques and instruments for articulating these evidences. Digital forensics also has a number of uses for information. In addition, it has a crucial role to play in information security, security breach investigations yield useful knowledge which can be used to develop more secure systems.
Increasing overall use of computers as a way to store and retrieve high-security information requires appropriate security measures to safeguard the entire computing and communication scenario. The facets of information security are becoming a primary concern with the introduction of social media and its technology to protect the networks and the cyber environment from various threats.
This book aims at young professionals of technology, privacy, and confidence to use and improve industry reliability in a distributed manner, as well as computer scientists and software developers seeking to conduct research and develop cyber security and digital forensic tools. This book also benefits researchers and students of advanced computer science and information technology levels.
The book focuses on cutting-edge work from both academia and industry, and seeks to solicit original research chapters with specific emphasis on cyber security and digital forensic challenges and future trends. This book also outlines some of the exciting areas of future research in cyber security and digital forensics which will lead to additional innovations in this area of research.
Скачать Cyber Security and Digital Forensics: Challenges and Future Trends

Внимание
Уважаемый посетитель, Вы зашли на сайт как незарегистрированный пользователь.
Мы рекомендуем Вам
зарегистрироваться
либо войти на сайт под своим именем.