The Role of IoT and Blockchain: Techniques and Applications
Добавил:

literator

Дата:

1-02-2022, 17:55

Комментариев:

0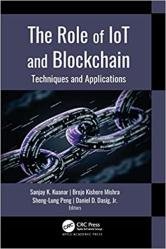 Название
: The Role of IoT and Blockchain: Techniques and Applications
Автор
: Sanjay K. Kuanar (PhD), Brojo Kishore Mishra (PhD), Sheng-Lung Peng (PhD)
Издательство
: Apple Academic Press, CRC Press
Год
: 2022
Страниц
: 501
Язык
: английский
Формат
: pdf (true)
Размер
: 25.5 MB
This volume provides informative chapters on the emerging issues, challenges, and new methods and state-of-the-art technologies on the Internet of Things and blockchain technology. It presents case studies and solutions that can be applied in the current business scenario, resolving challenges and providing solutions by integrating IoT with blockchain technology. The book addresses the growing attention that blockchain technology is receiving from industry and research because of its ability to provide "magical solutions" to problems associated with classical centralized architecture. The chapters discuss how the Internet of Things (IoT) represents a revolution of the Internet that can connect nearly all environment devices over the Internet to share data to create novel services and applications for improving quality of life. Although the centralized IoT system provides countless benefits, it raises several challenges. The volume presents IoT techniques and methodologies, blockchain techniques and methodologies, and case studies and applications for data mining algorithms, heart rate monitoring, climate prediction, disease prediction, security issues, automotive supply chains, voting prediction, forecasting particulate matter pollution, customer relationship management, and more.
IoT is a fresh idea which enables people to connect different sensors and intelligent machines to gather information from the surroundings in real time. Lots of analytical techniques are brought into IoT to render IoT smarter; data mining is among the most precious techniques. Data mining is the method of finding interesting knowledge and possibly relevant patterns from Big Data sets and using algorithms to extract crucial information. This article focuses on data mining framework for IoT, data mining functionalities and usage of data mining in IoT applications. After that, a survey on different data mining algorithms is presented. We also analyze the effectiveness and efficiency of different data mining algorithms (K-nearest neighbors, Naive Bayes, support vector machine (SVM), C5.0, deep learning artificial neural networks (ANN), and ANNs). We reviewed the above mentioned algorithms and concluded that DLANNs, ANNs, C5.0 give relatively higher accuracy and memory-efficient as compared to other algorithms. To address IoT data mining problems such as managing large quantities of information, data analysis (DA), a big data mining system is suggested.
Скачать The Role of IoT and Blockchain: Techniques and Applications

Внимание
Уважаемый посетитель, Вы зашли на сайт как незарегистрированный пользователь.
Мы рекомендуем Вам
зарегистрироваться
либо войти на сайт под своим именем.