The Role of the Internet of Things (IoT) in Biomedical Engineering: Present Scenario and Challenges
Добавил:

literator

Дата:

21-12-2021, 16:55

Комментариев:

0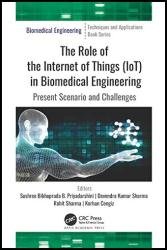 Название
: The Role of the Internet of Things (IoT) in Biomedical Engineering: Present Scenario and Challenges
Автор
: Sushree Bibhuprada B. Priyadarshini (PhD), Devendra Kumar Sharma (PhD), Rohit Sharma (PhD)
Издательство
: CRC Press/Apple Academic Press
Год
: 2022
Страниц
: 274
Язык
: английский
Формат
: pdf (true)
Размер
: 16.3 MB
This volume introduces the key evolving applications of IoT in the medical field for patient care delivery through the usage of smart devices. It shows how IoT opens the door to a wealth of relevant healthcare information through real-time data analysis as well as testing, providing reliable and pragmatic data that yields enhanced solutions and discovery of previously undiscovered issues. The Role of Internet of Things (IoT) in Biomedical Engineering: Present Scenario and Challenges discusses IoT devices that are deployed for enabling patient health tracking, various emergency issues, smart administration of patients, etc. It looks at the problems of cardiac analysis in e-healthcare, explores the employment of smart devices aimed for different patient issues, and examines the usage of Arduino kits where the data can be transferred to cloud for internet-based uses. The volume also considers the roles of IoT in electroencephalography (EEG) and magnetic resonance imaging (MRI), which play significant roles in biomedical applications. This book also incorporates the use of IoT applications for smart wheelchairs, telemedicine, GPS positioning of heart patients, smart administration with drug tracking, and more.
The current age of the Internet of Things (IoT) allures billions of users due to its wide range of popularity and broad range of applications in many fields of life. Modern technologies coupled with the Internet of Things (IoT) platform are evolving for patient care delivery. In this text, we discuss how such novel technology affords a bridge for the development of the modern advanced healthcare system, incorporating patients as crucial actors in various ways, while decreasing costs and improving the treatment and diagnostics outcomes. IoT is basically an advanced automation and analytics framework in the context of biomedical that exploits networking, Big Data, sensing, and Artificial Intelligence technologies to deliver complete systems for either product or service. The advanced automation and analytics of IoT in medical applications allows more powerful emergency support services, which typically suffer from their limited resources.
Key features:
Explores the use of IoT in the field of biomedical engineering
Discusses current issues associated with biomedical engineering while including the fundamentals such as collaboration on usage of sensors, bio-interfaces, e-medicine, remote healthcare, etc.
Throws light on IoT for healthcare monitoring as well as for remote healthcare, data communication, monitoring, and diagnosis.
The book will help readers to keep abreast of the current novel technologies for conducting research while employing various diagnostic tools and to explore frontiers of what is realizable in practice.
Скачать The Role of the Internet of Things (IoT) in Biomedical Engineering: Present Scenario and Challenges

Внимание
Уважаемый посетитель, Вы зашли на сайт как незарегистрированный пользователь.
Мы рекомендуем Вам
зарегистрироваться
либо войти на сайт под своим именем.