Interoperability of Heterogeneous IoT Platforms: A Layered Approach
Добавил:

literator

Дата:

19-12-2021, 14:34

Комментариев:

0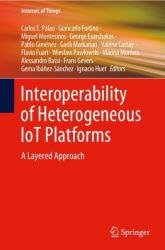 Название
: Interoperability of Heterogeneous IoT Platforms: A Layered Approach
Автор
: Carlos E. Palau, Giancarlo Fortino, Miguel Montesinos
Издательство
: Springer
Серия
: Internet of Things
Год
: 2021
Страниц
: 312
Язык
: английский
Формат
: pdf (true)
Размер
: 10.2 MB
This book discusses the design and implementation of, as well as experimentation on, an open cross-layer framework and associated methodology to provide voluntary interoperability among heterogeneous Internet of Things (IoT) platforms. It allows readers to effectively and efficiently develop smart IoT applications for various heterogeneous IoT platforms, spanning single and/or multiple application domains. To do so, it provides an interoperable framework architecture for the seamless integration of different IoT architectures present in different application domains. In this regard, interoperability is pursued at various levels: device, network, middleware, services and data.
In recent years, due to a great interest of both Industry and Academy in researching and developing IoT technology, many solutions at different levels (from the IoT device-level to full-fledged IoT platforms) have been implemented. However, there is no reference standard for IoT platform technology, and we do not foresee one in the near future. Hence, IoT scenarios will be characterized by a high degree of heterogeneity at all levels (device, networking, middleware, application service, data/semantics), preventing interoperability of IoT solutions. Although many research actions and projects have dealt and/or are dealing with developing IoT architectures in diversified application domains, not many of them have addressed interoperability/integration issues. Furthermore, no proposals (to date) have been put forward to deliver a general, application domain agnostic, fully reusable and systematic approach to solve multiple interoperability problems existing in the IoT platforms technology.
Lack of interoperability causes major technological and business issues such as impossibility to plug non-interoperable IoT devices into heterogeneous IoT platforms, impossibility to develop IoT applications exploiting multiple platforms in homogeneous and/or cross domains, slowness of IoT technology introduction at a large-scale, discouragement in adopting IoT technology, increase of costs, scarce reusability of technical solutions, user dissatisfaction. In contrast, interoperability among platforms will provide numerous benefits such as new market opportunities, the disappearance of vertical silos, and vertically oriented closed systems, architectures and application areas, to move towards open systems and platforms. Comprehensively addressing lack of interoperability in the IoT realm by proposing a full-fledged approach facilitating "voluntary interoperability" at any level of IoT platforms and across any IoT application domain, thus guaranteeing a seamless integration of heterogeneous IoT technology.
INTER-IoT is a solution proposed to the above problem, and has aimed at the design, implementation and experimentation of an open cross-layer framework, an associated methodology and tools to enable voluntary interoperability among heterogeneous Internet of Things (IoT) platforms. INTER-IoT is the supporting environment for this book. It has been conceived and created among other potential solutions in the framework of IoT-EPI, and has allowed effective and efficient development of adaptive, smart IoT applications and services, atop different heterogeneous IoT platforms, spanning single and/or multiple application domains, creating also its own ecosystem.
Скачать Interoperability of Heterogeneous IoT Platforms: A Layered Approach

Внимание
Уважаемый посетитель, Вы зашли на сайт как незарегистрированный пользователь.
Мы рекомендуем Вам
зарегистрироваться
либо войти на сайт под своим именем.