Smart IoT for Research and Industry
Добавил:

literator

Дата:

18-07-2021, 18:25

Комментариев:

0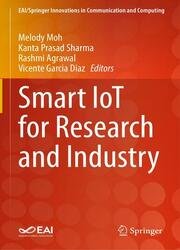 Название
: Smart IoT for Research and Industry
Автор
: Melody Moh, Kanta Prasad Sharma
Издательство
: Springer
Год
: 2022
Страниц
: 219
Язык
: английский
Формат
: pdf (true)
Размер
: 10.1 MB
This book covers a variety of smart IoT applications for industry and research. For industry, the book is a guide for considering the real-time aspects of automation of application domains. The main topics covered in the industry section include real-time tracking and navigation, smart transport systems and application for GPS domains, modern electric grid control for electricity industry, IoT prospectives for modern society, IoT for modern medical science, and IoT automation for Industry 4.0. The book then provides a summary of existing IoT research that underlines enabling technologies, such as fog computing, wireless sensor networks, data mining, context awareness, real-time analytics, virtual reality, and cellular communications.
This book is written as a textbook on the Internet of Things for educational and research programs at colleges and universities, and also for IoT vendors and service providers who may be interested in offering a broader perspective of the Internet of Things to accompany their own customer and developer training programs.
The typical reader is expected to have completed a couple of courses in programming using traditional high-level languages at the college level, and is either a senior or a beginning graduate student in one of the science, technology, engineering, or mathematics (STEM) fields. We have tried to write a comprehensive book that transfers knowledge through an immersive "hands on" approach, where the reader is provided the necessary guidance and knowledge to develop working code for real-world IoT applications. Concurrent development of practical applications thataccompanies traditional instructional material within the book further enhances the learning process, in our opinion.
The book comprises a total of 13 chapters. We introduce the reader to advanced topics on IoT including IoT data analytics and tools for IoT, fog technology for IoT, and IoT-based search engine in agriculture. Review studies on collecting and analyzing data generated by the Internet of Things in the clouds are described for multidimensional research. Through generous use of hundreds of figures and tested code results samples, we have attempted to provide a rigorous "no hype" guide to the Internet of Things. It is expected that diligent readers of this book can use these exercises to develop their own IoT applications or tools. We adopted an informal approach to describing well-known concepts primarily because these topics are covered well in existing textbooks, and our focus instead is on getting the reader firmly on track to developing research-oriented robust IoT applications as opposed to more hypothesis.
- Covers real-time problems for industry along with unique research methodologies for furthering the field;
- Includes authentic research datasets for simulated applications in IoT;
- Features topics such as IoT for retail and supply chain management, smart health, and smart electricity & energy management.
Скачать Smart IoT for Research and Industry

Внимание
Уважаемый посетитель, Вы зашли на сайт как незарегистрированный пользователь.
Мы рекомендуем Вам
зарегистрироваться
либо войти на сайт под своим именем.