Distributed Denial of Service Attacks: Concepts, Mathematical and Cryptographic Solutions
Добавил:

literator

Дата:

16-07-2021, 17:26

Комментариев:

0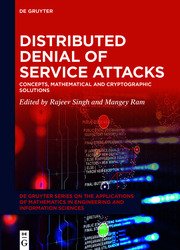 Название
: Distributed Denial of Service Attacks: Concepts, Mathematical and Cryptographic Solutions
Автор
: Rajeev Singh, Mangey Ram
Издательство
: De Gruyter
Год
: 2021
Страниц
: 234
Язык
: английский
Формат
: pdf (true), epub
Размер
: 45.7 MB
Distributed Denial of Service (DDoS) attacks cause devastating effects on the web services and hence harm digital availability. This book gives a relevant theoretical framework and the latest research trends in the DDoS attack domain. It presents the state-of-the-art developments and challenges in the field of DDoS attacks. Mathematical solutions ranging from probability, queuing, statistical improvements to machine learning and soft computing are presented in the book. The latest trends like blockchains and honeypots for mitigating DDoS attacks are also described. The book is aimed at enhancing the knowledge and know-how of researchers and academicians working toward mitigation of DDoS attacks. Such readers will benefit from the systematic and latest trends against DDoS attacks in the mathematical and cryptographical area. Overall, the book promotes the development of new mathematical and cryptographical solutions in the field of DDoS.
Distributed denial-of-service (DDoS) attacks deny access to infrastructures of service providers. These attacks can arise anytime, anywhere, and with little or no warning at all. Most of the small and medium businesses (SMBs) are not able to handle a significant outage, which may be fatal for the companies. These attacks generate damage to enterprises due to service provisioning interruption, which increases the chances of financial losses, and the system's unavailability. Therefore, to overcome these issues, the companies must possess a bandwidth higher than the attacker, redundant components in their infrastructure, regular backups, firewalls, other proactive and reactive mechanisms for threat monitoring. The chapter 1 explores DDoS and Malware attacks that employ the Internet of Things (IoT) devices. Hierarchical modeling is commonly used to evaluate the availability of such systems. The chapter 1 also assesses the DDoS attack impacts and Malware in IoT devices. It was proposed models based on attack trees that produce the system and components behavior to determine the DDoS and Malware attack effects on system availability; still, it was verified metrics of interest as the likelihood of an attack, attacker benefit, feasibility, and pain factor. The attack tree indicators show the impact of the concurrent attacks using vulnerable IoT devices on a computer system, which can cause a system's downtime. Using the attack tree analysis, we allow planning and improving the system's availability, maintainability, and reliability.
Скачать Distributed Denial of Service Attacks: Concepts, Mathematical and Cryptographic Solutions

Внимание
Уважаемый посетитель, Вы зашли на сайт как незарегистрированный пользователь.
Мы рекомендуем Вам
зарегистрироваться
либо войти на сайт под своим именем.