Accelerating Cloud Adoption: Optimizing the Enterprise for Speed and Agility (Final)
Добавил:

literator

Дата:

23-08-2021, 19:51

Комментариев:

0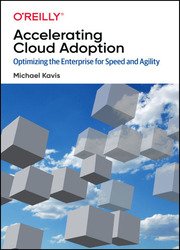 Название
: Accelerating Cloud Adoption: Optimizing the Enterprise for Speed and Agility, First Edition
Автор
: Michael Kavis
Издательство
: O'Reilly Media
Год
: 2020
Страниц
: 192
Язык
: английский
Формат
: pdf (true), epub
Размер
: 10.1 MB, 10.1 MB
Many companies move workloads to the cloud only to encounter issues with legacy processes and organizational structures. How do you design new operating models for this environment? This practical book shows IT managers, CIOs, and CTOs how to address the hardest part of any cloud transformation: the people and the processes. Author Mike Kavis (Architecting the Cloud) explores lessons learned from enterprises in the midst of cloud transformations. You'll learn how to rethink your approach from a technology, process, and organizational standpoint to realize the promise of cost optimization, agility, and innovation that public cloud platforms provide.
Cloud computing models offer significant opportunities for businesses to enable new types of services, delivered at a velocity and scale previously unimagined. The key enabler is all the software, much of it originating in the open source community, that is able to deliver very high degrees of automation, both by the cloud providers in delivering their services and by the cloud consumers delivering applications built on those services. There is, however, an element of risk concentration that must be given due consideration. Just as electrical power utilities can incur planned or unplanned outages affecting millions of users, risk concentration of applications and services in public cloud utilities can incur outages since they usually offer only 99.9% reliability of the infrastructure. You have to bring your resiliency models along with your applications when you make the journey to the cloud. No application is an island unto itself and usually has an ecosystem of services that provide the essential life-support mechanisms that application teams have come to rely on. Many application developers do not fully understand resiliency the way that outage-hardened IT infrastructure people do, so they have to work together as a joint team, which may not be a natural tendency.
Learn the difference between working in a data center and operating in the cloud
Explore patterns and anti-patterns for organizing cloud operating models
Get best practices for making the organizational change required for a move to the cloud
Understand why site reliability engineering is essential for cloud operations
Improve organizational performance through value stream mapping
Скачать Accelerating Cloud Adoption: Optimizing the Enterprise for Speed and Agility (Final)
True PDF:
ePub:

Внимание
Уважаемый посетитель, Вы зашли на сайт как незарегистрированный пользователь.
Мы рекомендуем Вам
зарегистрироваться
либо войти на сайт под своим именем.