Artificial Intelligence and Security Challenges in Emerging Networks
Добавил:

literator

Дата:

28-08-2019, 01:36

Комментариев:

0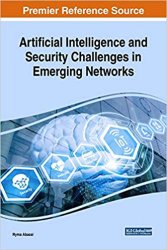 Название
: Artificial Intelligence and Security Challenges in Emerging Networks
Автор
: Ryma Abassi
Издательство
: IGI Global
Год
: 2019
Страниц
: 309
Язык
: английский
Формат
: pdf (true)
Размер
: 14.5 MB
The recent rise of emerging networking technologies such as social networks, content centric networks, Internet of Things networks, etc, have attracted significant attention from academia as well as industry professionals looking to utilize these technologies for efficiency purposes. However, the allure of such networks and resultant storage of high volumes of data leads to increased security risks, including threats to information privacy.
Artificial Intelligence and Security Challenges in Emerging Networks is an essential reference source that discusses applications of artificial intelligence, machine learning, and data mining, as well as other tools and strategies to protect networks against security threats and solve security and privacy problems. Featuring research on topics such as encryption, neural networks, and system verification, this book is ideally designed for ITC procurement managers, IT consultants, systems and network integrators, infrastructure service providers, computer and software engineers, startup companies, academicians, researchers, managers, and students.
Cloud computing that aims to provide convenient, on-demand, network access to shared software and hardware resources has security as the greatest challenge. Data security is the main security concern followed by intrusion detection and prevention in cloud infrastructure. In this book, general information about cloud computing and its security issues are discussed. In order to prevent or avoid many attacks, a number of machine learning algorithms approaches are proposed. However, these approaches do not provide efficient results for identifying unknown types of attacks. Deep learning enables to learning features that are more complex, and thanks to the collection of big data as a training data, deep learning achieves more successful results. Many deep learning algorithms are proposed for attack detection. Deep networks architecture is divided into two categories, and descriptions for each architecture and its related attack detection studies are discussed in the book.
Topics Covered:
The many academic areas covered in this publication include, but are not limited to:
Encryption
Fog Computing
IoT Threats
Machine Learning
Network Manipulation
Neural Networks
Ransomware
Scanning Techniques
Security
System Verification
Vehicle Detection
Скачать Artificial Intelligence and Security Challenges in Emerging Networks

Внимание
Уважаемый посетитель, Вы зашли на сайт как незарегистрированный пользователь.
Мы рекомендуем Вам
зарегистрироваться
либо войти на сайт под своим именем.