Javascript Absolute Beginner's Guide, Third Edition
Добавил:

literator

Дата:

24-11-2022, 14:18

Комментариев:

0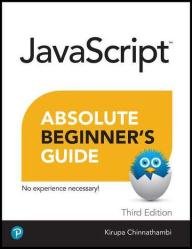 Название
: jаvascript Absolute Beginner's Guide, Third Edition
Автор
: Kirupa Chinnathambi
Издательство
: Pearson Education
Год
: 2023
Страниц
: 624
Язык
: английский
Формат
: epub
Размер
: 51.1 MB
Make the most of today's jаvascript–even if youve never programmed anything before. jаvascript Absolute Beginner's Guide, Third Edition is the fastest way to learn jаvascript, starting with the basics and gradually going deeper and broader into all the techniques you need to begin building highly scalable, performant web apps and experiences. Do what you want, the way you want, one incredibly easy step at a time!
Successfully learning a programming language is very similar to how you would approach learning a real-world language. You start off with the basics. Once you've gotten good at that, you move on to something a bit more advanced. This whole process just keeps repeating itself, and it never really ends. None of us ever truly stops learning. It just requires starting somewhere. To help you with the "starting somewhere" part, that is where this book comes in. This book is filled from beginning to end with all sorts of good (and hilarious, I hope!) stuff to help you learn jаvascript. Now, I hate to say anything bad about a programming language behind its back, but jаvascript is often pretty dull and boring.
Learn all this, and much more:
Start fast with the basics: values, variables, functions, conditionals, loops, closures, and more
Create well-organized, clear code thats easy to reuse and improve
Learn proven best practices to build web apps that scale with outstanding performance
Make the most of powerful object-oriented techniques to build complex, extensible apps
Wrangle data like a pro by learning how to use the popular JSON standard, arrays, web storage, and more
Translate your ideas into visually compelling and interactive content by learning how to work with the DOM
Identify and fix issues quickly by learning how to use the in-browser development tools
Understand the ins and outs of events and how you can use them to react to actions the user or the page will perform
Learn how to ensure your code runs lightning-fast with extra coverage of performance optimizations and techniques you can use
Learn the basics that set you up to more quickly use modern web frameworks like React, Vue, Next.js, and Nuxt
Explore advanced features such as object destructuring, making web requests, the class syntax, accessing your webcam, variable hoisting, and more
Get up-to-speed on the latest jаvascript enhancements proposed by the EcmaScript standard
Скачать jаvascript Absolute Beginner's Guide, Third Edition

Внимание
Уважаемый посетитель, Вы зашли на сайт как незарегистрированный пользователь.
Мы рекомендуем Вам
зарегистрироваться
либо войти на сайт под своим именем.