The Development of Natural Language Processing: Research on the Development of Electronic Information Engineering Technology in China
Добавил:

literator

Дата:

10-06-2021, 15:11

Комментариев:

0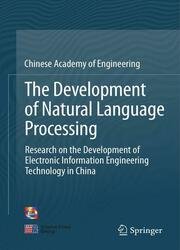 Название
: The Development of Natural Language Processing: Research on the Development of Electronic Information Engineering Technology in China
Автор
: Chinese Academy of Engineering
Издательство
: Springer, Science Press
Год
: 2021
Страниц
: 98
Язык
: английский
Формат
: pdf (true), epub
Размер
: 18.1 MB
This book is a part of the Blue Book series "Research on the Development of Electronic Information Engineering Technology in China", which explores the cutting edge of natural language processing (NLP) studies. The research objects of natural language processing are evolved from words, phrases, and sentences to text, and research directions are from language analysis, language understanding, language generation, knowledge graphs, machine translation, to deep semantic understanding, and beyond. This is in line with the development trend of applications. And for another typical NLP application machine translation, from text translation, to voice and image translation, now simultaneous interpretation, progress of technology makes the application of machine translation deeper and wider into diverse industries.
The world today is undergoing profound and unprecedented changes. Science and technology are rushing into a fast development lane, the world economy has entered a critical period of replacing the traditional growth drivers by new ones, and China's economy has stepped into a phase of high-quality development. In this context, artificial intelligence (AI) has become an important driving force for a new round of scientific and technological revolution and industrial transformation, and AI is deeply integrated with all walks of life to promote the intelligent transformation and upgrading of industries. Therefore, the innovations of AI technologies and the further expansion of application scenarios in breadth and depth are of great importance.
In recent years, as AI applications have gradually expanded to all walks of life, application scenarios contain various modal information and have become more complex and diverse. As a result, the research objects of natural language processing have also expanded from language to speech and vision, leading to a new direction of cross-modal semantic understanding. Natural language processing has formed a complete technical system and promoted the development and integration of various technologies.
This book is intended for researchers and industrial staffs who have been following the current situation and future trends of the natural language processing. Meanwhile, it also bears high value of reference for experts, scholars, and technical and engineering managers of different levels and different fields.
Скачать The Development of Natural Language Processing: Research on the Development of Electronic Information Engineering Technology in China

НЕ РАБОТАЕТ
TURBO
BIT
.NET? ЕСТЬ РЕШЕНИЕ, ЖМИ СЮДА!
СООБЩИТЬ ОБ ОШИБКЕ ИЛИ НЕ РАБОЧЕЙ ССЫЛКЕ (ОТВЕЧАЕМ НА ОБРАЩЕНИЯ ТОЛЬКО ЗАРЕГИСТРИРОВАННЫХ ПОЛЬЗОВАТЕЛЕЙ!!!)
Внимание
Уважаемый посетитель, Вы зашли на сайт как незарегистрированный пользователь.
Мы рекомендуем Вам
зарегистрироваться
либо войти на сайт под своим именем.
Информация
Посетители, находящиеся в группе Гости, не могут оставлять комментарии к данной публикации.