Artificial Intelligence: Practical guide to obtain competitive advantage from the use of predictive models and enabling technologies
Добавил:

literator

Дата:

14-08-2020, 15:20

Комментариев:

0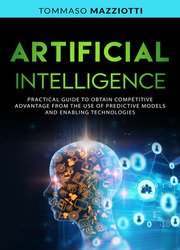 Название
: Artificial Intelligence: Practical guide to obtain competitive advantage from the use of predictive models and enabling technologies
Автор
: Tommaso Mazziotti
Издательство
: Independently published
Серия
: Artificial Intelligence (Book 3)
Год
: 2020
Язык
: английский
Формат
: pdf, aw3, epub
Размер
: 10.1 MB
Natural language processing, expert systems, neural networks, robotics and fuzzy logic are the major subfields of Artificial Intelligence (AI). Machine Learning (ML) has the capability to automate analytical model building as it utilizes methods from operations research, physics, statistics and neural networks to find hidden insights in data without being explicitly programmed.
Artificial Intelligence is composed of multiple properties such as reasoning, learning, problem-solving, perception and linguistic intelligence. There are several ways to simulate human intelligence because some methods or models are more intelligent than others and AI is completely based on if-then statements, such as knowledge graphs, expert systems and rules engines. On the other hand, machine learning models are said to learn by experience and improve their performance without being explicitly programmed.
Here are some of the major subfields of Artificial Intelligence:
● Neural networks : Machine learning works similar to a human brain and is comprised of interconnected units. The information is then processed by responding to relaying information and external inputs between each unit. AI needs complete access to data for establishing connections to bring results from undefined data.
● Computer vision : It is focused on deep learning and pattern recognition approaches to recognize the information in a video or picture. With the help of AI models, machines are able to understand, analyze and capture images in real-time. Interpretation and evaluation of visuals can also be performed through computer vision techniques.
● Natural language processing : It is the ability of computers to understand, analyze, interpret and generate human language. As it is generally used in speech recognition models, humans can communicate with computers in their everyday language to perform specific tasks through natural language processing models.
● Expert systems: They are computer applications developed to solve complex problems at the level of human expertise and intelligence. Having high-performance, understandable, reliable, and highly responsive models, expert systems can easily instruct and assist humans in decision making.
● Deep Learning : It is a subfield of machine learning and is based on the algorithms of artificial neural networks. This technique allows computers to perform activities in the same way humans do because it is inspired by the function and structure of the human brain. Deep learning technology is mainly being used in driverless cars and voice control applications in smartphones or computers. Besides, the computer model is intended to learn from classification tasks in the form of sound, text or image.
Скачать Artificial Intelligence: Practical guide to obtain competitive advantage from the use of predictive models

Внимание
Уважаемый посетитель, Вы зашли на сайт как незарегистрированный пользователь.
Мы рекомендуем Вам
зарегистрироваться
либо войти на сайт под своим именем.