A Guided Tour of Artificial Intelligence Research: Volume I: Knowledge Representation, Reasoning and Learning
Добавил:

literator

Дата:

12-05-2020, 12:19

Комментариев:

0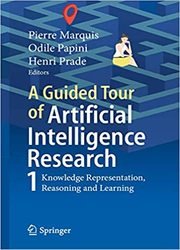 Название
: A Guided Tour of Artificial Intelligence Research: Volume I: Knowledge Representation, Reasoning and Learning
Автор
: Pierre Marquis, Odile Papini
Издательство
: Springer
Год
: 2020
Страниц
: 818
Язык
: английский
Формат
: pdf (true), epub
Размер
: 24.3 MB
The purpose of this book is to provide an overview of AI research, ranging from basic work to interfaces and applications, with as much emphasis on results as on current issues. It is aimed at an audience of master students and Ph.D. students, and can be of interest as well for researchers and engineers who want to know more about AI. The book is split into three volumes:
- the first volume brings together twenty-three chapters dealing with the foundations of knowledge representation and the formalization of reasoning and learning (Volume 1. Knowledge representation, reasoning and learning)
- the second volume offers a view of AI, in fourteen chapters, from the side of the algorithms (Volume 2. AI Algorithms)
- the third volume, composed of sixteen chapters, describes the main interfaces and applications of AI (Volume 3. Interfaces and applications of AI).
The first volume of the Artificial Intelligence (AI) guided tour describes how one can enable a computer system to reason. As this book is a guided tour, it considers the many topics developed by AI researchers. Naturally, this is essential for all those who want to make progress in our field; however, this does not imply that reading these books should be restricted to AI scientists. In fact, they do not describe a succession of achievements, but the general principles that allow the realization of the most noteworthy results. This overall perspective gives useful ideas to all scientists, although they do not consider themselves as belonging in the mainstream of Artificial Intelligence, even if they do not try to solve problems on a computer.
AI is interested in its main goal: solving problems that were previously only solved by living beings, and particularly by human ones. However, it turns out that, while doing so, AI has often discovered methods and ideas useful for other scientific disciplines. Thus, in several domains of Cognitive Science, new approaches came from ideas widely used in AI: For instance, apart from the statistical description of the life of an anthill, some have begun to model every ant, considered as a small automaton. In this book, cognitive scientists will certainly be interested in the study of trust and emotions for a cognitive agent. For their part, philosophers and logicians will read the chapter on deontic logics, which specify in a rigorous, unadorned language, concepts such as obligatory, permissible, optional, and ought.
Скачать A Guided Tour of Artificial Intelligence Research: Volume I: Knowledge Representation, Reasoning and Learning

Внимание
Уважаемый посетитель, Вы зашли на сайт как незарегистрированный пользователь.
Мы рекомендуем Вам
зарегистрироваться
либо войти на сайт под своим именем.