Software Engineering for Enterprise System Agility: Emerging Research and Opportunities
Добавил:

literator

Дата:

21-02-2019, 14:07

Комментариев:

0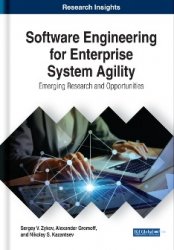 Название
: Software Engineering for Enterprise System Agility: Emerging Research and Opportunities
Автор
: Sergey V. Zykov, Alexander Gromoff, Nikolay S. Kazantsev
Издательство
: IGI Global
ISBN
: 1522555897
Год
: 2018
Страниц
: 237
Язык
: английский
Формат
: True PDF
Размер
: 10.17 MB
Sustaining a competitive edge in today's business world requires innovative approaches to product, service, and management systems design and performance. Advances in computing technologies have presented managers with additional challenges as well as further opportunities to enhance their business models.
Software Engineering for Enterprise System Agility: Emerging Research and Opportunities is a collection of innovative research that identifies the critical technological and management factors in ensuring the agility of business systems and investigates process improvement and optimization through software development. Featuring coverage on a broad range of topics such as business architecture, cloud computing, and agility patterns, this publication is ideally designed for business managers, business professionals, software developers, academicians, researchers, and upper-level students interested in current research on strategies for improving the flexibility and agility of businesses and their systems.
Since agile software development has been widely adopted in projects, nowadays enterprises extend agile methods and thinking to larger settings e.g. general project management, business process management and even on the enterprise level. Especially due to the digital transformation with all its corresponding changes in technology, organization, people and processes, being an agile enterprise is becoming a necessity. In manufacturing industry, the digital transformation is often discussed under the term of "Industry 4.0" or "Industrial Internet" promising new options for flexibilization and further automation of production. This transformation requires rethinking current practices and demands for the exploitation and exploration of new business opportunities. Finally, it also involves rearranging the interaction between man and machine. Many ethical questions come up when dealing with artificial intelligence and cyber-physical systems. Enterprises use more and more smart objects and machines, which are able to perform tasks that need some kind of "intelligence" and thus, were normally conducted by human.
In particular, in decision-making tasks with regard to people the use of artificial intelligence raises ethical issues. To sum up, the fast pace of the digital transformation forces enterprises to change continuously, to reinvent themselves and to adapt to new challenging environments and competitors. Overall, this work contributes to a comprehensive picture of the aforementioned changes to be considered in the Industrial Internet environment by discussing certain aspects of agility in enterprises such as agility in software development, but also in terms of the whole organization and its associated business processes. Moreover, it considers modern technological trends of research such as cybernetics, Internet of Things, Cloud Computing and Artificial Intelligence.
Скачать Software Engineering for Enterprise System Agility: Emerging Research and Opportunities

Внимание
Уважаемый посетитель, Вы зашли на сайт как незарегистрированный пользователь.
Мы рекомендуем Вам
зарегистрироваться
либо войти на сайт под своим именем.