Trends and Applications in Software Engineering: Proceedings of the 6th International Conference on Software Process Improvement (CIMPS 2017)
Добавил:

buratino

Дата:

31-07-2018, 17:01

Комментариев:

0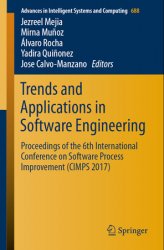 Автор
: Jezreel Mejia, Mirna Mu?oz, ?lvaro Rocha, Yadira Qui?onez, Jose Calvo-Manzano
Название
: Trends and Applications in Software Engineering: Proceedings of the 6th International Conference on Software Process Improvement (CIMPS 2017) (Advances in Intelligent Systems and Computing)
Издательство
: Springer
Год
: 2017
Серия:
Advances in Intelligent Systems and Computing (Book 688)
ISBN:
9783319693408
Язык:
English
Формат
: pdf
Размер
: 10,2 mb
Страниц:
306
Held from 18th to 20th October 2017 in Zacatecas, Mexico, the conference provided a global forum for researchers and practitioners to present and discuss the latest innovations, trends, results, experiences and concerns in various areas of software engineering, including but not limited to software processes, security in information and communication technology, and big data.
The main topics covered are organizational models, standards and methodologies, software process improvement, knowledge management, software systems, applications and tools, information and communication technologies and processes in non-software domains (mining, automotive, aerospace, business, health care, manufacturing, etc.) with a demonstrated relationship to software engineering challenges.

Table of contents:

Скачать с облака
Внимание
Уважаемый посетитель, Вы зашли на сайт как незарегистрированный пользователь.
Мы рекомендуем Вам
зарегистрироваться
либо войти на сайт под своим именем.