AI for Behavioural Science
Добавил:

literator

Дата:

28-10-2022, 02:22

Комментариев:

0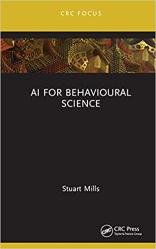 Название
: AI for Behavioural Science
Автор
: Stuart Mills
Издательство
: CRC Press
Год
: 2023
Страниц
: 130
Язык
: английский
Формат
: pdf (true)
Размер
: 10.2 MB
This book is a concise introduction to emerging concepts and ideas found at the intersection of contemporary behavioural science and Artificial Intelligence (AI). The book explores how these disciplines interact, change, and adapt to one another and what the implications of such an interaction are for practice and society.
AI for Behavioural Science book begins by exploring the field of machine behaviour, which advocates using behavioural science to investigate Artificial Intelligence. This perspective is built upon to develop a framework of terminology that treats humans and machines as comparable entities possessing their own motive power. From here, the notion of Artificial Intelligence systems becoming choice architects is explored through a series of reconceptualisations. The architecting of choices is reconceptualised as a process of selection from a set of choice architectural designs, while human behaviour is reconceptualised in terms of probabilistic outcomes. The material difference between the so-called "manual nudging" and "automatic nudging" (or hypernudging) is then explored. The book concludes with a discussion of who is responsible for autonomous choice architects.
I have also tried to write a book that gives a reader tools to begin their own inquiry into this vast and rapidly developing area, which one might broadly call behavioural technology. For behavioural scientists, I offer various models, concepts, and I hope useful defnitions, which will allow one to understand how behavioural science is translated to a machine. For computer scientists, I offer refections on how such translation can diminish or perhaps distort the human subject at the centre of all these shenanigans.
In some ways, the felds of Artificial Intelligence (AI) and behavioural science (insofar as it is focused on the human subject) are two sides of the same coin. While AI researchers endeavour to "create mind in machines", the objective of behavioural science (and the felds which constitute it, namely, psychology and – to a lesser extent – economics) is to explain the product of the mind (i.e., behaviour) within the world. The similarities between felds, therefore, originate from the central objective of probing the "black box" of intellect and reason (and thus behaviour) which is possessed by the human, and is given to the machine. Naturally, the history of AI and behavioural science is one which is entangled.
Скачать AI for Behavioural Science

Внимание
Уважаемый посетитель, Вы зашли на сайт как незарегистрированный пользователь.
Мы рекомендуем Вам
зарегистрироваться
либо войти на сайт под своим именем.