Campbell Biology, 11th Edition
Добавил:

bhaer

Дата:

25-01-2017, 12:24

Комментариев:

0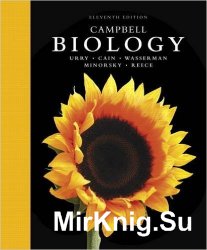 Название:
Campbell Biology, 11th Edition
Автор:
Jane B. Reece, Lisa A. Urry, Michael L. Cain, Peter V. Minorsky, Steven A. Wasserman
Издательство:
Pearson
Год:
2017
Страниц:
1488
Формат:
PDF
Размер:
275 Mb
Язык:
English
The World's Most Successful Majors Biology Text and Media Program are Better than Ever
The Eleventh Edition of the best-selling Campbell BIOLOGY sets students on the path to success in biology through its clear and engaging narrative, superior skills instruction, innovative use of art and photos, and fully integrated media resources to enhance teaching and learning.
To engage learners in developing a deeper understanding of biology, the Eleventh Edition challenges them to apply their knowledge and skills to a variety of new hands-on activities and exercises in the text and online. Content updates throughout the text reflect rapidly evolving research, and new learning tools include Problem-Solving Exercises, Visualizing Figures, Visual Skills Questions, and more.
Table of Contents

Показать / Скрыть текст

Внимание
Уважаемый посетитель, Вы зашли на сайт как незарегистрированный пользователь.
Мы рекомендуем Вам
зарегистрироваться
либо войти на сайт под своим именем.