Principles of Cyber-Physical Systems: An Interdisciplinary Approach
Добавил:

literator

Дата:

15-10-2020, 13:28

Комментариев:

0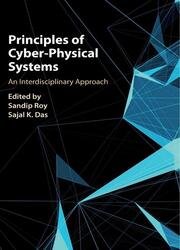 Название
: Principles of Cyber-Physical Systems: An Interdisciplinary Approach
Автор
: Sandip Roy, Sajal Das
Издательство
: Cambridge University Press
Год
: 2020
Страниц
: 464
Язык
: английский
Формат
: pdf (true)
Размер
: 12.3 MB
This unique introduction to the foundational concepts of cyber-physical systems (CPS) describes key design principles and emerging research trends in detail. Several interdisciplinary applications are covered, with a focus on the wide-area management of infrastructures including electric power systems, air transportation networks, and health care systems. Design, control and optimization of cyber-physical infrastructures are discussed, addressing security and privacy issues of networked CPS, presenting graph-theoretic and numerical approaches to CPS evaluation and monitoring, and providing readers with the knowledge needed to operate CPS in a reliable, efficient, and secure manner. Exercises are included. This is an ideal resource for researchers and graduate students in electrical engineering and computer science, as well as for practitioners using cyber-physical systems in aerospace and automotive engineering, medical technology, and large-scale infrastructure operations.
Cyber technologies are becoming pervasive in engineered physical systems ranging in scale from micro-robots that travel in the bloodstream to multi-continent transportation networks. The tight interfacing of cyber and physical components in engineered systems permits profound (and sometimes magical) advancements in their functionalities, but at the same time brings forth unique challenges in system operation, analysis, and design. The potentially transformative benefits that come from melding cyber and physical capabilities, and the attendant challenges, are rapidly driving research and development efforts in wide-ranging fields (e.g., medicine, transportation, power transmission, retail). As these cyber-physical systems (CPSs) become increasingly common in our daily lives, tools and techniques for characterizing and designing their operations are increasingly needed. This is because such tools will (1) permit keen analysis and improvement of the intricate interactions between cyber and physical aspects of a particular complex system; and yet (2) transcend system-specific details to provide general insight into CPSs. In short, a foundational theory for CPSs is spanning important disciplines but yielding concrete advances in deployment and operation of particular systems.
Скачать Principles of Cyber-Physical Systems: An Interdisciplinary Approach

Внимание
Уважаемый посетитель, Вы зашли на сайт как незарегистрированный пользователь.
Мы рекомендуем Вам
зарегистрироваться
либо войти на сайт под своим именем.