Добавил:

harun54

Дата:

19-10-2021, 15:07

Комментариев:

0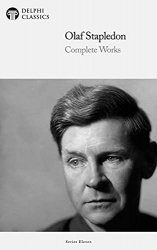 Название:
Delphi Complete Works of Olaf Stapledon
Автор:
Olaf Stapledon
Издательство:
Delphi Classics
Год:
2021
Формат:
EPUB
Размер:
10 Мб
Язык:
английский / English
The English novelist and philosopher Olaf Stapledon wrote intriguing histories of the future, which served as a major influence on the development of the science fiction genre. His debut novel, 'Last and First Men', covers a history of 18 successive species of humanity, while his magnum opus 'Star Maker' provides an outline history of the Universe over two billion years. His works are highly acclaimed by figures as diverse as Brian Aldiss, Jorge Luis Borges, J. B. Priestley, Bertrand Russell, Algernon Blackwood, Arnold Bennett, Virginia Woolf, C. S. Lewis and Winston Churchill. Stapledon used his novels as vehicles to present complex and thought-provoking philosophical ideas, employing themes of antiquity to fashion a myth of the future. This comprehensive eBook presents Stapledon's complete fictional works, with numerous illustrations, rare texts appearing in digital print for the first time, informative introductions and the usual Delphi bonus material.