Добавил:

harun54

Дата:

23-11-2021, 16:18

Комментариев:

0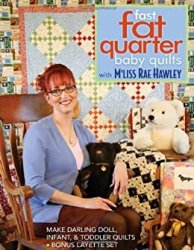 Название:
Fast, Fat Quarter Baby Quilts With M'liss Rae Hawley
Автор:
M'Liss Rae Hawley
Издательство:
C&T Publishing
Год:
2009
Формат:
PDF
Размер:
75 Мб
Язык:
английский / English
Take your French braid quilts in dramatic new directions with bold new shapes and sizes, techniques, and colors. 8 projects. Create beautiful soft and cuddly quilts for your little ones - or to give as gifts. Wrap up your little ones with these 10 delightfully soft and cuddly handmade quilts. Master quilter M'Liss Rae Hawley teaches you everything you need to know to create wonderful snuggly cotton and flannel quilts for infants and toddlers. This volume also includes an inspirational gallery of over 40 quilts, plus a bonus layette set and 2 adorable doll quilts to make from your leftovers.