Добавил:

harun54

Дата:

24-10-2021, 11:16

Комментариев:

0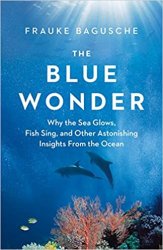 Название:
The Blue Wonder: Why the Sea Glows, Fish Sing, and Other Astonishing Insights from the Ocean
Автор:
Frauke Bagusche
Издательство:
Greystone Books
Год:
2021
Формат:
EPUB
Размер:
30 Мб
Язык:
английский / English
This intimate account of the beauty, mystery and amazing science of the ocean is an excellent gift for ocean and nature lovers, or the aspiring marine biologist in your life! In The Blue Wonder, marine biologist and diver Frauke Bagusche brings readers on a fascinating and beautiful deep-sea dive into the ocean. Humans know more about the moon's surface than we do about the ocean. There is so much to be discovered, under the sea. With the heart of a poet and the mind of a scientist, Frauke Bagusche re-awakens our love for the sea and ignites a desire to protect this vital habitat.