Добавил:

harun54

Дата:

Сегодня, 10:08

Комментариев:

0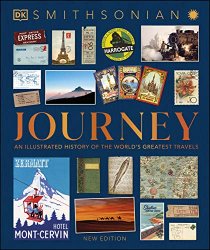 Название:
Journey: An Illustrated History of the World's Greatest Travels, New Edition
Автор:
DK, Simon Reeve
Издательство:
DK
Год:
2022
Формат:
EPUB
Размер:
151 Мб
Язык:
английский / English
Follow the voyages of the Vikings, pursue plundering pirates, trace the Hippie Trail, or set off on a flight to the Moon. A thrilling expedition awaits you on every page. Journeys have arisen from all manner of impulse, from migration and the search for food to pilgrimages, trade, scientific curiosity, or simply the quest for adventure. Includes stories of human movement and endeavor, Journey lets you experience the excitement and romance of travel, covering everything from quests across the Silk Road and the adventures of Marco Polo to explorations in space and underwater. Discover ancient maps, biographies of conquerors, explorers and travelers, stories of scientific discovery and technological innovation, stunning works of art, and catalogs of travel-related memorabilia.