Добавил:

harun54

Дата:

24-03-2017, 15:18

Комментариев:

0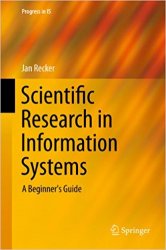 Название:
Scientific Research in Information Systems: A Beginner's Guide
Автор:
Jan Recker
Издательство:
Springer
Год:
2012
Формат:
PDF, EPUB
Размер:
5,5 Мб
Язык:
английский / English
This book is designed to introduce doctoral and other higher-degree research students to the process of scientific research in the fields of Information Systems as well as fields of Information Technology, Business Process Management and other related disciplines within the social sciences. It guides research students in their process of learning the life of a researcher. In doing so, it provides an understanding of the essential elements, concepts and challenges of the journey into research studies. It also provides a gateway for the student to inquire deeper about each element covered?. Comprehensive and broad but also succinct and compact, the book is focusing on the key principles and challenges for a novice doctoral student.