Добавил:

harun54

Дата:

22-08-2017, 12:05

Комментариев:

1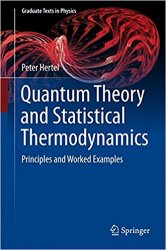 Название:
Quantum Theory and Statistical Thermodynamics: Principles and Worked Examples
Автор:
Peter Hertel
Издательство:
Springer
Год:
2017
Формат:
PDF
Размер:
4 Мб
Язык:
английский / English
This textbook presents a concise yet detailed introduction to quantum physics. Concise, because it condenses the essentials to a few principles. Detailed, because these few principles – necessarily rather abstract – are illustrated by several telling examples. A fairly complete overview of the conventional quantum mechanics curriculum is the primary focus, but the huge field of statistical thermodynamics is covered as well.