Добавил:

harun54

Дата:

24-08-2017, 12:32

Комментариев:

0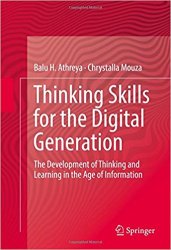 Название:
Thinking Skills for the Digital Generation: The Development of Thinking and Learning in the Age of Information
Автор:
Balu H. Athreya and Chrystalla Mouza
Издательство:
Springer
Год:
2016
Формат:
PDF
Размер:
2 Мб
Язык:
английский / English
This important text synthesizes the state of knowledge related to thinking and technology and provides strategies for helping young people cultivate thinking skills required to navigate the new digital landscape. The rise of technology has resulted in new ways of searching and communicating information among youth, often creating information "overload". We do not know how the new technologies will affect the ways young people learn and think. There are plenty of warnings about the dangers of information technology, but there is also enormous potential for technology to aid human thinking, which this book explores from an open-minded perspective.