Добавил:

harun54

Дата:

29-05-2018, 12:44

Комментариев:

0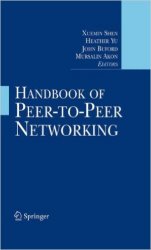 Название:
Handbook of Peer-to-Peer Networking
Автор:
Xuemin (Sherman) Shen and Heather Yu
Издательство:
Springer
Год:
2010
Формат:
PDF
Размер:
12 Мб
Язык:
английский / English
Peer-to-peer networking is a disruptive technology for large scale distributed app- cations that has recently gained wide interest due to the successes of peer-to-peer (P2P) content sharing, media streaming, and telephony applications. There are a large range of other applications under development or being proposed. The - derlying architectures share features such as decentralizaton, sharing of end system resources, autonomy, virtualization, and self-organization. These features constitute the P2P paradigm.