Добавил:

harun54

Дата:

24-07-2017, 08:52

Комментариев:

0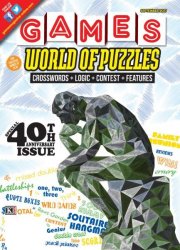 Название:
Games World of Puzzles
Номер:
September
Год:
2017
Страниц:
84
Формат:
PDF
Размер:
16 Мб
Язык:
английский / English
Games World of Puzzles is a small magazine that can travel with you anywhere! It does not matter whether you are waiting in the line at your child's school to pick him up or waiting for your doctor to call your name, this puzzle book can be taken with you and will keep you entertained while you wait on anything. Even if you are sitting at home, you can fight boredom with these mind-bending puzzles. Whether you are sitting with you spouse while watching television or just wanting wind down after a long day at work, Games World of Puzzles can help you fight boredom and relax.