Добавил:

harun54

Дата:

31-07-2017, 12:36

Комментариев:

0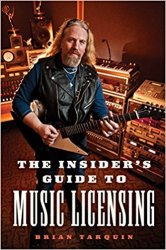 Название:
The Insider's Guide to Music Licensing
Автор:
Brian Tarquin
Издательство:
Allworth Press
Год:
2014
Формат:
EPUB
Размер:
1 Мб
Язык:
английский / English
First-hand advice for musicians from Brian Tarquin, author, who has over twenty years of experience in licensing music to record labels, TV shows, feature films, radio promos, and network promos. This book takes you through how licensing really works: what type of royalties are expected, digital royalties from companies, receiving royalties from iTunes, Rhapsody, Napster through digital distributors like IODA/The Orchard, and how they pay. Also covered are mechanical royalties from, broadcast radio licenses, how foreign royalties are collected, publishing administration deals, and a breakdown of sync and master licenses. Interviews with major industry players offer advice directly to musicians.