Добавил:

harun54

Дата:

13-09-2017, 22:34

Комментариев:

0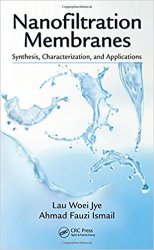 Название:
Nanofiltration Membranes: Synthesis, Characterization, and Applications
Автор:
Lau Woei Jye and Ahmad Fauzi Ismail
Издательство:
CRC Press
Год:
2016
Формат:
PDF, EPUB
Размер:
11 Мб
Язык:
английский / English
Covering fabrication, characterization, and applications nanofiltration (NF) membranes, this book provides a comprehensive overview of the development of NF membrane technology over the past decade. It uniquely covers a variety of fabrication techniques, comparing the procedures of each technique to produce polymeric membranes of different morphologies. The book also discusses advances in the materials used in thin film composite (TFC) polyamide membrane fabrication and their influences on properties with respect to structural and separation characteristics.