Добавил:

harun54

Дата:

7-05-2022, 13:08

Комментариев:

0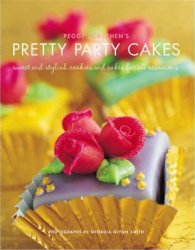 Название:
Peggy Porschen's Pretty Party Cakes: Sweet and Stylish Cookies and Cakes for All Occasions
Автор:
Peggy Porschen
Издательство:
Quadrille Publishing
Год:
2005
Формат:
PDF
Размер:
21 Мб
Язык:
английский / English
Forget the image of maiden aunts and country fairs - cake decorating has become cutting edge! Peggy Porschen is at the front of this new trend. Her cute designs have won her a host of celebrity clients - she provided the chocolate Faberge eggs for Elton John's White Tie and Tiara Ball and designed the stunning cake for Stella McCartney's wedding. Her instantly recognisable designs are inspired by current trends: Bollywood mini cakes are lavishly decorated in rich pinks and glitzy golds, cookies include funky handbags, Doris Day Polka dots, candy coloured stripes and romantic sugar blossoms and butterflies. The book begins with an easy-to-follow introduction showing all the equipment, basic recipes and techniques needed to make the cakes. Readers of all skill levels can then go onto the subsequent chapters: Cookies, Cup Cakes, Miniature Cakes and Large Cakes. All the designs have comprehensive instructions and crystal clear photography so that a stunning professional finish can always be achieved.